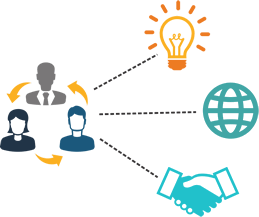 When we say we take care of our clients, we really do. We always strive to provide the best client experience, we remember their names, and we are available seven days a week to serve you better. Once we design a plan of action, our team executes each step with unshaken diligence and passion. We love to provide incredible services and make a difference every time we work on a project.
The only way we all can grow is by treating people like people. There's no other way around. We are a big company, but we are first a family and then an organization. We are not insanely formal in communication. When you talk to us, you will know that you can trust us.
We carefully listen what people have to say about us. Every review, every feedback, and every suggestion are thought upon. Our services matter to you, and your reviews matter a lot to us. Honest and good reviews can only be achieved by delivering successful projects.